Occupy Wall Street Activist Faces 7yrs in Prison After Beating by NYPD
---
- New York City 02/10/2014 (WBAI, Sparrow Media)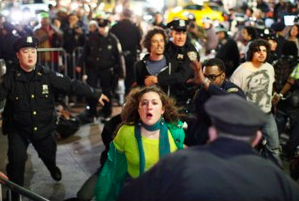 Trial begins in Manhattan Criminal Court today for Occupy Wall Street activist, Cecily McMillan, who faces 2nd degree assault charges stemming from a 2012 encounter with the NYPD that left her beaten and unconscious. McMillan was brutally arrested on the evening of March 17, 2012 at an event marking the 6-month anniversary of the group's occupation of Zuccotti Park. The series of events leading up McMillan's beating was documented extensively by the press, and began with a male NYPD officer forcibly grabbing her right breast. McMillan was 23 years old at the time.
McMillan was later charged with felony assault of a police officer, Assault 2nd degree, a Class D felony in NY, which carries that sentence of up to 7 years in prison. Prosecutors, upon approaching trial, have indicated that they will ask the judge for a maximum sentence of 7 years. Many activists speculate that McMillan's work as a political organizer has played a role in the prosecutor's unwavering position. Others attribute the city's stance to an unwillingness to admit guilt in the grotesque display of police misconduct on the night of McMillan's arrest.
"The main issue here," says Martin R. Stolar, McMillan's attorney, "is the heavy-handed, over-policing by the NYPD during the Occupy Wall Street protests, which lead to crimes where none existed. It was a normal reaction for a woman to react, to be startled after having her right breast grabbed." Rebecca Heinegg will be co-counsel with Stolar at trial.According to the National Lawyers Guild, McMillan's case is one of the last court cases stemming from Occupy Wall Street-related left on the docket. It may also be one of the most consequential.