- New York City 02/08/2014 by Linda Perry (WBAI)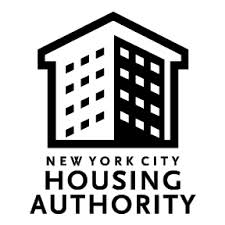 Mayor de Blasio's news conference to announce new public housing appointments was held at Lincoln Houses, where he stayed overnight during his campaign. The run down conditions he witnessed served as a testament to the need to address longstanding health and safety repair issues affecting the city's more than 400,000 housing authority tenants.
"We are going to take a new approach to this crisis that holds nothing back. From doing more to protect tenants in troubled buildings, to innovating new partnerships with the private sector, to forging a new relationship with our NYCHA communities, every decision we make will focus on maximizing the affordability of our neighborhoods. These agencies are going to work together as a collective to lift up families and make this one city—where everyone rises together," the Mayor said.
He announced four key appointments to his administration: Shola Olatoye appointed NYCHA Chair, Cecil House to serve as NYCHA General Manager, Vicki Been to head HPD, and Gary D. Rodney to direct HDC.
The goal is to build and preserve 200,000 units of affordable housing, to expand access to and upgrade the city's aging public housing stock. "We're going to get the housing pipeline moving," said Gary Rodney, incoming President of Housing Development Corporation. "We are going to reset NYCHA," said new NYCHA Chair, Shola Olatoya. "We're going to take a much more aggressive approach to protecting and building affordable apartments that responds to the crisis we're in. From apartments approaching the end of their subsidy to homes lost to Superstorm Sandy, we need faster and more innovative strategies that seize every opportunity to keep apartments affordable and accelerate the pace of bringing new ones online," said incoming HPD Commissioner Vicki Been.
The de Blasio administration has committed to fundamentally changing the city's relationship with its public housing tenants. According to De Blasio, Bloomberg's approach to NYCHA development is totally unacceptable. "The only way we'll focus on developments is with tenants." He said, "What's needed is trust and transparency to do development everyone can believe in." A major strategy change.