Keytone XL Protests Around the Country
---
- New York 02/04/2014 by Duncan Meisel (350.org/WBAI)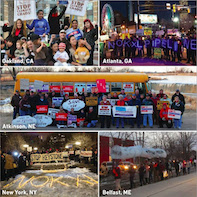 Commentary: The call to organize rallies against Keystone XL went out on Friday afternoon as the State Department released their report on the pipeline. By Monday morning, over 250 actions were planned and thousands of people were making plans to take to the streets in the cold, rain and snow.
In New York, we gathered after a heavy snow and spelled out a giant #noKXL message in lights. In DC, we stood outside the White House and asked a simple question to President Obama: "Will you be a climate champion or the pipeline president?" In Nebraska, folks gathered in the solar-powered barn that stands in the path of the pipeline were it to move forward.
Tonight we'll be bringing together a video chat to talk about some ideas for what comes next. Now is the time to start making plans — the video chat will start at 9 PM Eastern/ 6 Pacific, and we'll have a message from 350.org co-founder Bill McKibben, Idle No More organizer Clayton Thomas-Muller, and lay out some ideas for a full court-press to stop the pipeline.
President Obama has the evidence he needs to reject the pipeline — the question is whether he wants to be remembered as a climate champion or the pipeline president.
That means that Washington bureaucrats won't decide this fight — we will. If we can make enough noise in enough creative, unavoidable ways, we can drown out the voice of big oil.
This won't be our last fight — there are still many tar sands projects to stop, and a whole fossil fuel economy to turn around — but it is a crucial one, and one that I'm so, so excited to continue alongside you.
Let's do this.