NYC metro area faces up to 8 inches of snow
---
- New York 02/03/2014 by Linda Perry (WBAI)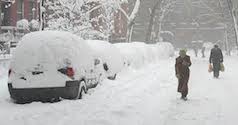 The National Weather Service has issued a winter storm warning for New York City, Long Island and parts of Northern New Jersey. The winter weather advisory is in effect from 5am to 7pm Monday. Many schools in our listening area are closed, but NYC Public schools are open. Area airports have delayed and cancelled flights.
Meterologists say the snow will be heavy at times, in particular during the morning and early afternoon hours. Temperatures will drop to the lower 30s with winds 10 to 15 mph. Snow accumulation of 5 to 8 inches is expected, with visibilities one quarter mile or less at times. The storm is creating hazardous travel conditions. Extreme caution is advised.
Snow is likely again Tuesday night, then turning to freezing rain and sleet after midnight.