- New York City 01/20/2014 by Verena Dobnik (AP)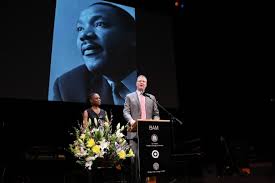 Mayor Bill de Blasio embraced one of Martin Luther King's most impassioned causes — economic justice — to celebrate the holiday named for the late civil rights leader.
De Blasio told a packed audience Monday at the Brooklyn Academy of Music the "price of inequality has deepened."
Economic inequality "is closing doors for hardworking people in this city and all over this country," said de Blasio, a Democrat. "We have a city sadly divided between those with opportunity, with the means to fully partake of that opportunity, and those whose dreams of a better life are being deferred again and again."
Citing King, de Blasio said, "We can't wait."
The mayor ran on a platform to battle the city's income inequality, which he dubbed "the tale of two cities."
He was joined by his wife, Chirlane McCray; the state's U.S. senators, Charles Schumer and Kirsten Gillibrand; and the newly elected Brooklyn borough president, Eric Adams.
The event was dedicated to the late Nelson Mandela. The keynote speaker at the event was professor, political activist and former radical Angela Davis.
Afterward, the mayor and his wife joined a small assembly line of mostly volunteers preparing meals for the hungry at the Community Kitchen and Food Pantry in West Harlem run by New York's Food Bank, one of the nation's largest hunger relief organizations.
"You're making a big impact in people's lives," de Blasio told a group of Girl Scouts from Brooklyn.
The couple stood side by side next to the children and a handful of adult volunteers stuffing complete meals from boxes into brown paper bags that will be distributed to people in need. The food included ham-and-cheese sandwiches, juice, chips, cookies and a few other items.
De Blasio said King's teachings are meant to be lived.
"This is the day when we think about the meaning of Dr. King and what I think is so important, never to see his teachings as something in the past or something that's just a part of history in a museum — but to live them," the mayor said.
As the 6-foot-5 mayor filled the brown paper bags, he leaned down to reach the girls, engaging them in lighthearted banter.
"Got to get my chip thing going!" he announced with a grin as he and the kids coordinated their efforts.
"Make sure you always hold (the bag) underneath," he coached them, followed by praise: "We're a well-oiled machine now."
According to the food bank, 2.6 million New Yorkers face difficulty feeding themselves — a number that is rising as food supplies drop and food costs rise.
The food bank distributes about 400,000 free meals each day.
In the afternoon, de Blasio stopped by the Rev. Al Sharpton's National Action Network, where he said he was basing his administration's agenda on the teachings of King.
Citing King's "we can't wait" motto and President Barack Obama's words originally used by King — "the fierce urgency of now" — the mayor ticked off some city issues in urgent need of action: economic inequality, paid sick time for workers, community health care endangered by hospital closures, the reform of the stop-and-frisk police tactic and pre-K for every child.
It also was announced that Rachel Noerdlinger, the former spokeswoman for Sharpton's civil rights organization, was named McCray's chief of staff.
Earlier Monday, police Commissioner Bill Bratton addressed stop-and-frisk, which he said had been "unfairly applied in excess numbers."
"And we are committed to compassionate policing," Bratton said. "All these are the ideals of Martin Luther King that he strived for and ultimately gave his life for."