Zachary Carter, Stop and Frisk, Central Park 5
---
- New York City 12/30/2013 by Linda Perry (WBAI)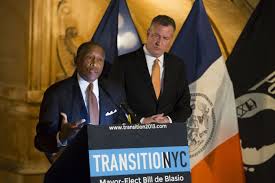 Mayor-elect Bill de Blasio appointed Zach Carter Corporation Counsel, the top lawyer for New York City. Carter led the prosecution in the Abner Louima case. He helped to turn around Hale House in Harlem. He was the first black lawyer to be U.S. Attorney for the Eastern District of New York. That's where Carter developed a national reputation as an effective prosecutor.
"Not every decision will be popular, but the pursuit of justice and fairness will move us closer to the Mayor's vision and I believe the vision of the overwhelming majority of New Yorkers for an era of shared opportunity of prosperity and justice."
It was Mayor Mike Bloomberg and Police Commissioner Ray Kelly who fought long and hard against NYPD reform of stop-and-frisk. Under Bloomberg's watch the city waged a war against Federal Judge Shira Sheindlin's ruling that stop-and-frisk is unconstitutional, that it violates the rights of blacks and latinos. Remedies she issued such as installing a federal monitor to oversee the NYPD are on hold pending the outcome of an appeal by the City, but that's about to change according to Bill de Blasio:
"We start with our values. We start with the positions we took and made public throughout the last year, so we will drop the appeal on the stop and frisk case because we think the Judge was right about the reforms we need to make."
And there's another long standing case that has caused much suffering, which the Bloomberg administration left hanging for years. The case of young men wrongly convicted and jailed for the rape of the Central Park Jogger.
"We will settle the Central Park 5 case because a huge injustice was done. In doing all that I'll depend on Zach Carter to analyze the best specific way forward."
Beginning the process of closing one of the most shameful chapters in NYC's history.
Linda Perry, WBAI News, New York