- New York City 12/19/2013 by Linda Perry (WBAI News)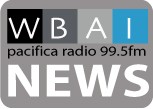 At a news conference in Brooklyn, Mayor-Elect Bill de Blasio said New York City is facing an unprecidented situation in the history of the City.
"We've never had all our labor contracts unresolved simultaneously. We've never had the fiscal stress created by having our entire workforce in a situation where the work contracts are not finished and completed."
De Blasio appointed Dean Fuleihan as New York City's next budget director. Fuleihan served more than three decades in top posts for the state Assembly, including as chief fiscal and policy adviser to the Assembly leadership. De Blasio said many times when New York City interests were confronted, when the most vulnerable were under attack by Albany, it was Dean Fuleihan who held the line and brought private and public sectors together. The new budget director was the principal staff negotiator on the $130 billion state budget in 2011. His latest job was Executive Director of SUNY's Nanotechnology Innovation Institute.
Fuleihan said, "I look very much forward to fighting for New York City again, putting my Albany experience to use in passing a tax on the wealthiest New Yorkers to transform our schools, putting strategic investments that create good jobs and career paths at the center of our agenda, making sure we resolve labor contracts in a way that respects the City's workforce and protects the taxpayer."
At the same time Mayor MIke Bloomberg was giving advice about labor negotiations in his final speech at the Economic Club of New York. When asked about this the Mayor-Elect took aim.
"I can't help but note that we are starting today's discussion with an acknowledgement that every labor contract is open in New York City. That never happened before. No previous mayor ever let that happen. We're talking about a lot of different mayors, a lot of different approaches, but no mayor ever let that happen before. So I would caution, as much as I appreciate Mayor Bloomberg's advice, I would caution that one should be careful about giving advice from that perspective."
And what about the next speaker of the City Council, de Blasio's phone calls to Council Members and his closeness to Melissa Mark Viverito?
"I respect the fact that the Council Members make this decision. I can offer my own observations, but they make this decision. As I think is well known, I like and respect Melissa greatly, but this is a decision the Council Members make."
Mark Viverito says she is the progressive candidate and has a track record of accomplishment and success
"My vision is one that's going to lead us in that direction. It's going to be an inclusive body, much more open democratic. I support a whole host of reforms that have been adopted or at least embraced by about 30, 31 colleagues. So there's a lot of work that we need to get done. We clearly had a mandate in the last election cycle of wanting a more progressive vision for our City that is more inclusive of everyone, that people not be left behind, that we look at our educational policy, our housing policies and be much more expansive, so I think that's the track record that I've had in the past eight years on the Council, and leading the Council that's the direction I would go in, making sure that my colleagues are co-partners with me as we move forward in adopting a budget and passing laws and legislation that is going to be inclusive."
So what about those who say you are too close to de Blasio?
"I think anybody that knows me knows that I am quite independent. I am very alligned philosophically with what the Mayor has laid out in his campaign. With six candidates he was able to avoid a run-off, and I was one of the early supporters, so clearly I'm alligned with the vision he has laid out and which has been embraced by the electorate. So with that we're going to be close working allies without a doubt, but I have also been able to express a difference of opinion. I have a legislative body, fifty other colleagues that I want to be co-partners with me, so if we decide we want to take a different direction on any sort of policy then we will engage in that conversation amicably and respectfully with the Mayor."
Dan Garodnick is seen as her main rival in the bid for City Council Speaker. With the Progressive Caucus and Brooklyn Democratic block behind Mark Viverito, it appears she has at least 30 votes which is a clear majority on the 51 member Council.
Linda Perry, WBAI News, New York