- New York City 12/05/2013 by Linda Perry (WBAI)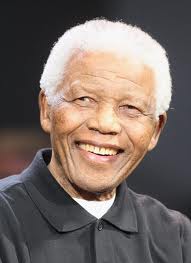 Nelson Mandela, the anti-apartheid leader who became South Africa's first democratically elected president and a symbol of reconciliation to many around the world, has died. At his 95th birthday celebration in Harlem, the young and old spoke of Madiba's legacy, the struggle he went thorough, the unity he brought to his country, his patience and strength. Senator Bill Perkins said Madiba's success reminds us that the struggle continues. "We must continue his work to bring about the kind of society that is worthy of our children." For Council Member Robert Jackson, Nelson Mandela's path shows "no matter how much someone attempts to incarcerate you or put you down, you must be able to stay strong and know the path to victory. And part of that path is understanding rules and regulations and how to promote the change, not only from an academic point of view, but from a street point of view, an action point of view." Sixteen year old Mamadou Deboya respects the way Mandela found peace and independence for South Africa after the hardships he went through. "Nelson Mandela teaches us that everyone is equal and the same." Congressman Joe Crowley said, "In his legacy, Nelson Mandela will continue to inspire future generations and all those who strive for democracy, equality, and justice."
President Obama is one of the countless millions who drew inspiration from Mandela's life. "Through his fierce dignity and unbending will to sacrifice his own freedom for the freedom of others, Madiba transformed South Africa — and moved all of us. His journey from a prisoner to a President embodied the promise that human beings — and countries — can change for the better. His commitment to transfer power and reconcile with those who jailed him set an example that all humanity should aspire to, whether in the lives of nations or our own personal lives. And the fact that he did it all with grace and good humor, and an ability to acknowledge his own imperfections, only makes the man that much more remarkable. As he once said, 'I am not a saint, unless you think of a saint as a sinner who keeps on trying.' .
United Nations Secretary-General Ban Ki-moon told reporters, "No one did more in our time to advance the values and aspirations of the United Nations." Ban urged each person to continue each day "to be inspired by Nelson Mandela's lifelong example to keep working for a better and more just world."
Mayor-Elect de Blasio sent his condolences, "Our thoughts and prayers are with Mr. Mandela's wife, Graça Machel, his children and family, and the people of South Africa as we mourn the loss of one of the world's most inspiring leaders." In New York City flags will fly at half-mast in Mandela's honor.