- New York 11/20/2013 by Linda Perry (WBAI)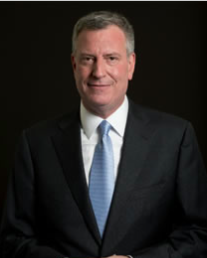 Bill de Blasio announced the appointment of 60 leaders and experts to help him build a progressive city government. The Mayor-Elect said "These leaders are volunteering their expertise in every issue and area of municipal affairs." The transition members are not trying to serve in the administration. The group will join de Blasio Transition NYC Co-Chairs Carl Weisbrod and Jennifer Jones Austin. "The transition committee members come from every slice of civic life -- business and labor, science and the arts, clergy and the grassroots, advocacy and the academy and their contributions will prove invaluable," said Jones Austin.
de Blasio said, "My charge to the transition team is to identify women and men from every part of our city and walk of life that share a commitment to progressive and competent city government. They will be advising me based on their wealth of experience and knowledge of specific issue areas and government agencies."
The transition committee includes:
Jennifer Jones Austin, Co-Chair, Transition NYC (previously named)
Carl Weisbrod, Co-Chair, Transition NYC (previously named)
Thelma Golden, Director and Chief Curator, Studio Museum of Harlem
Dr. Marta Moreno Vega, President and Founder of Caribbean Cultural Center African
Diaspora Institute; Adjunct Professor, New York University
Cheryl Cohen Effron, Founder, Greater NY; Former President, ATC Management
Karen Brooks Hopkins, President, Brooklyn Academy of Music
Alexa Avilés, Program Officer, Scherman Foundation; Co-President, Parent Teacher
Association of Public School 172
Zakiyah Ansari, Advocacy Director, Alliance for Quality Education
Maxine Griffith, Executive Vice President and Special Advisor for Campus Planning,
Office of Government and Community Affairs, Columbia University
Kate Sinding Esq., Senior Attorney, New York Urban Program, Natural Resources
Defense Council (NRDC)
Hon. Dr. Una S.T. Clarke, Former Councilmember, 40th District
MaryAnne Gilmartin, President and CEO, Forest City Ratner Companies
Bertha Lewis, President and Founder, The Black Institute
Marcia A. Smith, President, Firelight Media
Ana Oliveira, President and CEO, The New York Women's Foundation
Rabbi Sharon Kleinbaum, Senior Rabbi, Congregation Beit Simchat Torah (CBST)
Darren Walker, President, Ford Foundation

Martha Baker, Board Member, A Better Balance; Executive Director and CEO,
Nontraditional Employment for Women (NEW)
Dr. Katherine LaGuardia, Assistant Clinical Professor, Obstetrics, Gynecology and
Reproductive Science, Mount Sinai Medical Center
Dr. Conchita M. Mendoza, Chief of Geriatrics, University Hospital of Brooklyn, Long
Island College Hospital
Cynthia Nixon, Actress, Artist, Activist
Arnold L. Lehman, Director, Brooklyn Museum
Oskar Eustis, Artistic Director, The Public Theater
Edward (Ed) Lewis, Founder, Essence Communications, Inc.
Richard Buery, Jr., President and CEO, The Children's Aid Society
William Floyd, Head of External Affairs, Google, Inc.
Meyer (Sandy) Frucher, Vice Chairman, The NASDAQ OMX Group
Orin Kramer, Founder, Boston Provident LP
Vincent (Vinny) Alvarez, President, NYC Central Labor Council
Peter Madonia, COO, The Rockefeller Foundation; Former Chief of Staff, Mayor Michael
Bloomberg
Ken Sunshine, Founder, Sunshine Sachs
Harold Ickes, Former White House Deputy Chief of Staff
Dr. Rafael Lantigua, Professor of Clinical Medicine, New York-Presbyterian/Columbia
University Medical Center
John Banks, Vice President of Government Relations, Con Edison; Board Member,
Metropolitan Transit Authority (MTA)
Douglas (Doug) Durst, Chairman, The Durst Organization
Derrick Cephas, Partner, Weil, Gotshal & Manges; Former CEO and President,
Amalgamated Bank
Herb Sturz, Co-founder, Vera Institue of Justice; Founding Chairman, The
After-School Corporation (TASC); Senior Advisor, Open Society Institute; Co-Founder,
Single Stop USA
Jeremy Travis, President, John Jay College of Criminal Justive, City University of
New York
Rabbi Michael Miller, Executive Vice President and CEO, Jewish Community Relations
Council
Pastor Michael Walrond, Jr., Director of Ministers Division, National Action Network
(NAN); Seventh Senior Pastor, First Corinthian Baptist Church
Udai Tambar, Executive Director, South Asian Youth Action (SAYA!)
David Jones, President and CEO, Community Service Society of New York (CSS)
Marvin Hellman, President, OHEL Childrens Home and Family Services
Rev. A.R. Bernard, Founder, Senior Pastor, and CEO, Christian Cultural Center
George Gresham, President, 1199SEIU United Healthcare Workers East
Dr. Steven Safyer, President and CEO, Montefiore Medical Center, Albert Einstein
College of Medicine
Ken Lerer, Managing Director, Lerer Ventures; Former Chairman and Co-Founder,
Huffington Post
Imam Khalid Latif, Executive Director and Chaplain, Islamic Center, New York University
Marian Fontana, Board Member, Lower Manhattan Development Corporation, Families
Advisory Council
Tim Armstrong, Chairman and CEO, AOL, Inc.
Kevin Ryan, Founder and Chairman, Gilt
Pam Kwatra, President, Kripari Marketing; Executive Committee, Indian National
Overseas Congress
Elsie Saint Louis, Executive Director, Haitian-Americans United for Progress, Inc.
Vanessa Leung, Deputy Director, Coalition for Asian American Children & Families;
Secretary, Citywide Council on English Language Learners
Paula Gavin, Executive Director, Fund for Public Advocacy
Kim Sweet, Executive Director, Advocates for Children of New York
Dr. Marcia Keizs, President, York College, The City University of New York
Jukay Hsu, Founder, Coalition for Queens
Arnie Segarra, Activist and Longtime NYC Public Servant
Elba Montalvo, Founder, President, and CEO, The Committee for Hispanic Children and
Families, Inc.
Mindy Tarlow, Executive Director and CEO, Center for Employment Opportunities (CEO)
Hoong Yee Lee, Executive Director, Queens Council on the Arts
Transition NYC Co-Chair Weisbrod said, "The appointment of these distinguished
leaders advances Mayor-Elect de Blasio's commitment to building a government that
will work toward a more just New York, distinguished by effectiveness and
representative of the city they serve."
ABOUT TRANSITION NYC
Information about Mayor-Elect de Blasio's transition can be found at
www.transition2013.com. Transition NYC launched on November 6th and already
thousands of New Yorkers have stepped up be a part of this process. New Yorkers can
also follow news about the transition on Twitter at @nyctransition.