WBAI Election Special: Mayor de Blasio
---
- New York City 11/07/2013 by Linda Perry Barr (WBAI News)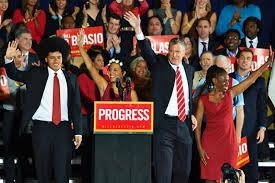 A historic landslide
- that's what New York gave Bill de Blasio. He was elected the city's 109th mayor with 73% of the vote.
His progressive views, down to earth manner, grassroots experience, plus the tale of two cities he painted during his campaign are why New Yorkers say they voted overwhelmingly for Bill de Blasio as the city's first Democratic Mayor in 20 years.
In this WBAI Election Special, New Yorkers express their hopes and concerns, their views on why de Blasio is the man to lead New York City into the future.