Stop and Frisk Judge Answers Appeals Court Charges
---
- New York City 11/01/2013 by Linda Perry Barr (WBAI)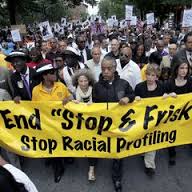 In a surprise move, the 2nd U.S. Circuit Court of Appeals removed Judge Shira Sheindlin from Stop-and-Frisk cases on Thursday. They also blocked the remedies she ordered to NYPD Stop-and-Frisk practices.
The appellate court said Judge Sheindlin steered the case Floyd vs. City of New York into her courtroom. The judge said it made procedural sense. Before Floyd, Judge Sheindlin presided over a stop-and-frisk case, Daniels vs. City of New York. This was after the shooting of Amadou Diallo back in 1999 by four cops with the now disbanded NYPD Street Crimes Unit.
Daniels challenged the NYPD's policy of conducting stop-and-frisks without reasonable suspicion. The case was settled in 2003. A consent decree was issued, but because of non-compliance by the NYPD and the City, civil rights attorneys wanted to file another suit.
In a written statement Judge Sheindlin says, "the plaintiffs originally wished to bring a contempt proceeding against the City in the Daniels case, which I had handled for many years. The City opposed the plaintiffs' application, asserting that a contempt proceeding would violate the protective order in Daniels. I sided with the City and directed the plaintiffs to bring a new action rather than a contempt proceeding. I said I would take the case as related because the plaintiffs charged that the City had violated my order in Daniels."
The appeals court said Judge Sheindlin compromised the code of conduct for U.S. judges, that she spoke to the press while the trial was in session. Judge Sheindlin writes, "With respect to press interviews: all of the interviews identified by the Second Circuit were conducted under the express condition that I would not comment on the Floyd case. And I did not. Some of the reporters used quotes from written opinions in Floyd that gave the appearance that I had commented on the case. However, a careful reading of each interview will reveal that no such comments were made."
The ruling by the appeals court means stop and frisk reform will be on hold pending the outcome of the city's appeal. How the next mayor will approach the appeal is an open question, but Bill de Blasio said he's extrememly disappointed by the decision. "We shouldn't have to wait for reforms that both keep our communities safe and obey the Constitution. We have to end the overuse of stop and frisk--and any delay only means a continued and unnecessary rift between our police and the people they protect."