Inner Resources for Health and Wellness Workshop - Sundays, Nov. 3 + 10
---
- WBAI 10/14/2013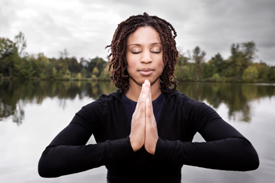 The Inner Resources for Health and Wellness Workshop
will offer insight and understanding of the forces that make up and influence our lives with a tutorial on muscle testing and the use of mudras to facilitate an inner dialog to clear old wounds and open new vistas of self expression.
This is a fundraiser for WBAI radio.
This process facilitates a journey within through an inner dialogue with the deeper parts of yourself, to help unlock the obstacles that block your progress in life. Muscle testing is based on the concept of internal energy fundamental to traditional Chinese Medicine. It is a way of evaluating your imbalances and assessing your needs. Mudras are positions of the body that have some kind of influence on the energies of the body, or your mood and emotional and psychological state. Mostly the hands and fingers are held in some position, but the whole body may be part of the mudra as well. Mudras have the capacity to fundamentaly change your state of being.
Participants will also receive, by email, a pdf manual on Muscle Testing and Mudras.
Konstantin Trifonov MD MPsy DAc
has been interested in alternative and oriental medicine since he was a student at Sechenov's Moscow State Medical Academy. During his last two years of school, he studied acupuncture and pulse diagnostics, which allowed him to simultaneously receive both MD and DAc degrees. After one year of general practitioner residency in the Moscow Clinical Hospital #67, he started his own acupuncture practice. During a visit to the United States in 1996, he met Solihin Thom the founder of Ad Humanitas.
Today, the main focus of Konstantin's work is to bring an understanding of the work to the people of Russia and the United States. Konstantin lives and works both in New York City and Moscow.
The workshops will take place from 10am to 5pm at WBAI, 388 Atlantic Ave, Brooklyn, 11217.
Sign up to attend both workshops Nov. 3 + 10 here
Sign up to attend Nov. 3rd ONLY here
Sign up to attend Nov. 10th ONLY here
OR
CALL: 516-620-3602 to register