- Washington 10/08/2013 by Linda Perry & Make the Road NY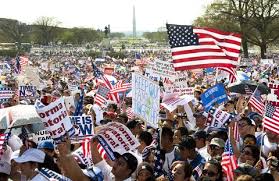 Immigrants from New York joined a civil disobedience action and got arrested with 200 allies from the Fair Immigration Reform Movement. Along with New York Congressmen Joe Crowley and Charles Rangel, they demanded immediate action in the House of Representatives to pass comprehensive immigration reform (CIR), including a path to citizenship for undocumented immigrants.
The action continued to escalate pressure on the House leadership following this Saturday's historic day of action for CIR, which included over 180 mobilizations in 40 states nationwide.
The civil disobedience immediately followed a rally and concert on the National Mall featuring Los Tigres del Norte, Lila Downs, Sen. Robert Menéndez, House Minority Leader Nancy Pelosi (D-CA), Representative Luis Gutierrez (D-IL), at least 30 other elected and civic leaders.
More than a dozen members of Make the Road New York (MRNY) traveled to Washington
to participate in the action and demand pass of CIR this year. Cesar Palomeque,
a MRNY member, naturalized Ecuadorian immigrant, and father of two who was arrested
for civil disobedience with 200 others, explained, "It is my duty to stand up for the millions of undocumented families who live every day with the immediate fear of being torn apart by an inhumane immigration system, as I once did before I becamea citizen. We who now have the privilege of being citizens must do everything inour power to make Congress act now."
María Magdalena Hernández, a MRNY member from Long Island who also joined in civil
disobedience, explained, "I am being arrested for the eleven million immigrants that deserve the same opportunities that I have as a newly-naturalized citizen and voter. We are all human beings. To prevent exploitation and defend workers' rights, the House must support comprehensive immigration reform and I thank Congressman Crowley for being here to lead the way."
Immigrant New Yorkers stood firm in their position that, while having seen what partisan bickering can do to our nation's budgetary process, they refuse to fall victim to the same dynamics on immigration reform. Following the passage of a Senate CIR bill in June, at least 26 House Republicans have already publicly supported a path to citizenship, including New York's Rep. Peter King, which reflects the millions of people who have made their voices heard through petitions, congressional visits, calls, and actions like today's.
In the coming weeks, MRNY and its allies will continue to take action to intensify the pressure on the House of Representatives to pass CIR this year and ensure that 11 million immigrant families remain together. MRNY was joined by the Urban Youth Collaborative, the New York Immigration Coalition, and SEIU Locals 32BJ and 1199 for today's civil disobedience action and will continue to work with New York partners to ensure the passage of comprehensive immigration reform this year.