- New York City 10/01/2013 by Jonathan Lemire, Associated Press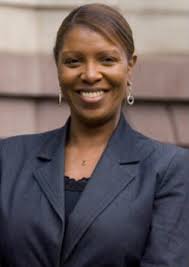 — In a runoff election marked by low turnout and high cost, Councilwoman Letitia James defeated state Sen. Daniel Squadron to become the Democratic party nominee for public advocate.
Unofficial returns from Tuesday's election showed James defeated Squadron by a significant margin, taking just about 60 percent of the vote. With nearly all precincts reporting, there were under 190,000 votes cast.
James faces a general election next month without a Republican opponent.
James and Squadron were the top two finishers in the Sept. 10 primary, but neither eclipsed the 40 percent threshold that would have avoided the costly runoff. The winners of the higher-profile mayoral and comptroller primary contests stayed above that mark, meaning the race to fill the little-understood public advocate position was the only one on the ballot.
The public advocate position has little real power and an annual budget of just $2.1 million, a small fraction of the $13 million it cost the city to hold the runoff, which was required by law.
"Over the weeks and months this has been an intense journey but one worth taking," James said in her victory speech.
She said, "There's so much more work to do because the next generation of New Yorkers are at risk of losing the opportunities that allowed us to make it in this city."
In a statement, Squadron said, "We ran this campaign making the case that the Public Advocate's office can be essential to our city — getting results for New Yorkers who need them. For New Yorkers without a voice, without high-powered lobbyists, without City Hall on speed dial. For people with no place else to turn. Their families need a strong Public Advocate. And I know that Tish will be their great advocate for New Yorkers across the city."
The post has become a springboard to higher office. The current public advocate, Bill de Blasio, is the Democratic nominee for mayor. He did not endorse anyone in the runoff.
De Blasio was one of many public officials who called for reforms to the costly runoff system.
If elected in November, James would rank second only to the mayor, according to the city charter, and would be in a position to badger the administration.
James, a three-term councilwoman from Brooklyn, had the support of most unions, including the Uniformed Firefighters Association. James, who is black, argued for the need to have a person of color and a woman in a citywide office, since Squadron and the leading candidates for mayor and comptroller are white men.
Squadron, who represents parts of Brooklyn and Manhattan, had utilized a larger campaign account and had the backing of the city's major newspaper editorial boards and many high-profile politicians, including his former boss U.S. Sen. Charles Schumer.