- 09/18/2013 by Angela Church & Maayan Schneider (WBAI)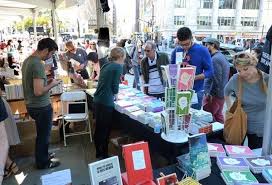 Recorded LIVE ON LOCATION at
Bevacco
in Brooklyn!
THEATER:
Communal Spaces 2013
- Original works inspired by community gardens in NYC!
Communal Spaces 2013 offers five short plays inspired by and performed in Lower East Side community gardens.
Admission is FREE. No reservations are needed.
Google Map Directions to Gardens:
http://goo.gl/maps/Eh7zu
Schedule:
Fridays – Sundays: Sept. 20-22 & Sept. 27-29:11:00am
–
Tim and Tuna in Town
, Written by Josh Gulotta, Directed by Jaki Bradley, at Siempre Verde Garden on Stanton and Attorney Streets
12:30pm
–
Extinguish Yourself
, Written by Angela Santillo, Directed by Michael Padden, at Miracle Garden on East 3rd Street btw Aves A and B
3:00pm
–
Yield! ,
Written by Will Arbery, Directed by Stella Powell-Jones, at All People's Garden on East 3rd btw Aves C and D

4:00pm
–
CO . OP
, Written by Patrick Shaw, Directed by Lillian Meredith, at Parque de Tranquilidad on East 4th btw Aves C and D
6:00pm
–
Limoncello Limoncello,
Written by Alexandra Bassett, Directed by Lillian Meredith, at Green Oasis Garden on East 8th btw Aves C and D
BROOKLYN BOOK FESTIVAL
Sunday September 22
: Here is a sampling of a few events - ALL happening at
12 noon:
1)
On Truth (and Lies) in Beauty:
Theater critic Hilton Als (
White Girls
) and philosopher Alexander Nehamas (
Only a Promise of Happiness
) join philosopher Simon Critchley (
Stay, Illusion: The Hamlet Doctrine
) to explore the notion of beauty as defined in the bold new opera
Anna Nicole
. Co-Presented by BAM and the Onassis Cultural Center NY. AT BOROUGH HALL COURTROOM (209 JORALEMON ST.)
2)
Arts and Politics in Fiction:
Art has always been a tool for political and social change. In these novels, it comes in the form of protest-pop songs, motorcycle photography and high-end fashion. Alex Gilvarry(
From the Memoirs of a Non-Enemy Combatant
), Rachel Kushner (
The Flamethrowers
) and Nicholson Baker (
Traveling Sprinkler
) shed new light on the timeless relationship between art and politics. Moderated by Joel Whitney. AT BROOKLYN HISTORICAL SOCIETY AUDITORIUM (128 Pierrepont Street)
3)
Pulitzer Prize winning playwright Lynn Nottage in Conversation
with screenwriter and author, Rebecca Miller (
Jacob's Folly
) and Lemon Andersen (
County of King
s) about choices--writing for stage, screen or books –for performers and audience or readers. Moderated by Bill Goldstein, NBC New York. AT THE NORTH STAGE
4)
Dazzling Heroines:
From murders to managing an employment agency for sorcerers, Newbery Honor winner Sheila Turnage (
Three Times Lucky
), bestselling author Jasper Fforde (
The Song of the Quarkbeast
) and Catherine Jinks (
How to Catch a Bogle
) talk about the amazingly resourceful and resilient female protagonists at the heart of their award-winning novels for young readers. Moderated by Ben Rosenthal, freelance children's book editor. Youth Stoop - at Borough Hall Plaza/Columbus Park.
STATEN ISLAND GO-KARTS, MINI-GOLF AND BATTING CAGES

Your one-stop-shop on Staten Island for Go Karts, Mini-Golf, and Batting Cages, all for a wildly affordable price! Their prices are as follows:
Mini Golf: $6 (18 holes)
Go Karts: $6 ($3 for passengers)-ride is about 5 minutes (driver must be 58" or taller)
Batting Tokens (18 pitches): $2.50
FREE SHORT FORM VIDEO TECHNIQUES CLASS September 24, 2013 • 11:00 AM-1:00 PM
Brooklyn Public Library - Central Branch
Learn the steps to producing your own video, from storyboarding to sharing it on the web.
See full schedule of free BRIC Media Education class offerings at Brooklyn Public Library here.
Have suggestions for the coming weeks?
Email us at freeandcheap@wbai.org.