Mayor's Race
---
- New York 09/11/2013 by Linda Perry Barr (WBAI)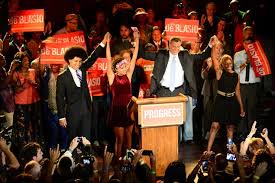 Public Advocate Bill de Blasio
is the top choice in the Democratic mayoral primary. He reached the 40 percent threshold to avoid a run-off Oct. 1, but the question is whether the 40 percent will hold. About 30,000 votes are yet to be counted from absentee ballots and from voters who had problems at the polls.
As it stands with 99 percent of precincts reporting, de Blasio had 40.3 percent of the votes. Bill Thompson came in second with 26 percent. Tallying paper ballots could take days.
In a runoff, exit polling shows de Blasio would handily defeat Thompson, 52 to 34 percent, with 9 percent saying they would stay home. Even though Thompson welcomes a run-off, Democratic leaders could pressure Thompson to drop out of the race in the name of party unity.
At a Brooklyn club last night standing with his family before a jubilant crowd, de Blasio spoke of his tale of two cities, one for the haves and one for the have nots. He said, "We are better as a city when we make sure that everyone has a shot."
The Democratic nominee faces Republican nominee Joe Lhota in the general election.