- New York City 09/06/2013 by Linda Perry Barr (WBAI)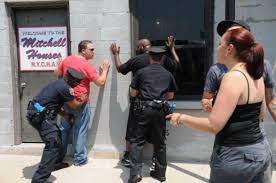 On behalf of plaintiffs in the class action lawsuit Floyd v. City of New York, civil rights attorneys filed opposition to the Bloomberg Administration's request that the court stay its remedies order. They said the City's arguments are devoid of factual support. They assert speculative harms and imaginary threats to public safety. The attorneys ask the court to
deny
the City's motion.
"The City's attempt to delay the remedy process is part of the same pattern of obstinacy it has shown over more than a decade in response to efforts by activists, legal organizations, and affected communities to get the NYPD to comply with the Constitution," said Center for Constitutional Rights Senior Staff Attorney Darius Charney.
Co-counsel Jonathan Moore of the firm of Beldock Levine & Hoffman, LLP, said: "The people have spoken, the legislature has spoken, and the courts have spoken. Everyone but the mayor and the police department agrees—it is long past time for change. And it is long past time for Mr. Bloomberg and the NYPD to get on board with that change."
Last month, in a landmark decision following a nine-week trial, Judge Shira A. Scheindlin ruled that the highly controversial stop-and-frisk practices violate New Yorkers' Fourth Amendment rights to be free from unreasonable searches and seizures and the Equal Protection clause of the Fourteenth Amendment, which protects against racial discrimination. New Yorkers continue to be stopped without any apparent reason. One of the Floyd plaintiffs, David Ourlicht, was illegally stopped a fourth time by NYPD officers. The court aims to put a stop to these violations of constitutional rights, and to put an end to racial profiling.
To remedy the widespread abuse, the judge ordered a court-appointed monitor to oversee a series of reforms to NYPD policing practices. She also ordered a Joint Remedial Process where New York communities most directly affected by policing will have a say.
And last week Judge Shira Sheindlin cleared the way for Davis v. the City of New York to go to trial. The lawsuit is by NYCHA public housing residents and visitors who say they were illegally stopped or arrested by NYPD. While the City denies that it has a stop and frisk program, police training material directs cops to stop and question people in NYCHA buildings "without reasonable suspicion of trespass, and to arrest for trespass those who fail to leave or affirmatively establish their right" to be in a building. One resident told WBAI News said she's
afraid of putting out her garbage without carrying an I.D.