De Blasio Surges Ahead For NYC Mayor
---
- New York City 08/28/2013 by Linda Perry Barr (WBAI News)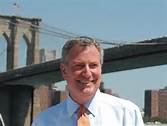 Bill de Blasio is nearing the 40 percent mark needed to avoid a run-off in the NYC Mayoral Race. This is according to a
new Quinnipiac poll
which finds 36 percent of Democratic Primary voters are for de Blasio.
Chris Quinn is battling it out with Bill Thompson for second place, with 21 to 20 percent of likely voters. The poll was done after New York City's newspapers endorsed Speaker Quinn, but this didn't help her numbers.
Quinnipiac says the findings are consistent with a poll done on
August 13th
which found Bill de Blasio ahead with 30 percent of the vote. As for Anthony Weiner, he has 8 percent of likely voters, with 6 percent for City Comptroller John Liu, 1 percent for Sal Albanese. With 13 days until the primary election, 8 percent of New York City voters are still undecided.
Maurice Carroll, director of the Quinnipiac University Polling Institute says, "if there is a runoff, de Blasio clobbers Council Speaker Christine Quinn or former Comptroller and 2009 Democratic challenger William Thompson." He says while "de Blasio takes a big lead into the final turn. Let's see how he does in the home stretch."