- Ft. Meade, Maryland 08/21/2013 (AP)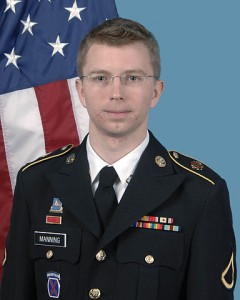 A military judge sentenced Army Pfc. Bradley Manning to 35 years in prison for giving a trove of military and diplomatic secrets to the website WikiLeaks.
Here's a look at the key elements of the case
:
----WHAT WAS MANNING CONVICTED OF
A judge convicted Manning on July 30 of 20 counts, including six Espionage Act violations, theft and computer fraud. He faced a possible maximum of 90 years in prison. He was acquitted of the most serious charge of aiding the enemy, which carries a possible life sentence.
-----WHAT DID MANNING DO?
The 25-year-old native of Crescent, Okla., leaked more than 700,000 classified Iraq and Afghanistan war logs and diplomatic cables in 2010 while working as an intelligence analyst in Baghdad. Manning also leaked a 2007 video clip of a U.S. helicopter crew killing at least nine men, including a Reuters news photographer and his driver. The Pentagon concluded the troops acted appropriately,having mistaken the camera equipment for weapons,
.---WHAT HARM DID THE PROSECUTORS' EVIDENCE SHOW?
During the sentencing phase of the trial, government witnesses testified the leaks endangered people who were named as information sources, prompting the State Department to help some of them move, even to other countries, for their safety. Several ambassadors were recalled, expelled or reassigned because of embarrassing disclosures.Prosecutors showed that al-Qaida in the Arabian Peninsula used material from the Apache helicopter attack in a propaganda video. Al-Qaida leader Osama bin Laden obtained, and presumably read, some of the leaked documents, the evidence showed.
---WHAT WERE THE DEFENSE'S PRINCIPAL ARGUMENTS?
The defense sentencing case focused on Manning's inner turmoil over his gender identity and isolation in a military that barred homosexuals from serving openly. Mental health experts testified that the additional stress of a recent breakup, combined with narcissistic tendencies and youthful idealism, caused Manning to believe he could change the way the world perceived the wars, and all future wars, by spilling classified information to the anti-secrecy group.Defense attorney David Coombs also presented evidence that Manning's unit needed intelligence analysts so badly that a supervisor didn't report to commanders his concerns that Manning's mental health was deteriorating. Such a report could have prevented Manning from being deployed or resulted in revocation of his top-secret security clearance.
----WHY DID HE DO IT?
Manning said in February he leaked the material to expose the U.S military's "bloodlust" and disregard for human life, and what he considered American diplomatic duplicity. He said he chose information he believed would not the harm the United States and he wanted to start a debate on military and foreign policy.In a courtroom statement Aug. 14, Manning apologized for causing harm to people and the United States, but not for revealing U.S. secrets. He expressed regret "for the unintended consequences" of his actions. "When I made these decisions, I believed I was going to help people, not hurt people," he said.
---WHAT IS THE PUNISHMENT?
Manning was sentenced to 35 years in prison. The judge did not offer any explanation for the sentence.Manning faced up to 90 years in prison, but the prosecution asked the judge to sentence him to only 60. Prosecutors did not address why they did not seek the maximum punishment, but the government was unable to show that Manning knew the documents would get to al-Qaida, and Manning said he only leaked information that he believed would not be harmful.The soldier's defense attorney didn't recommend a specific punishment, but suggested any prison term shouldn't exceed 25 years because that is when the classification of some of the documents Manning leaked will expire.
---WILL THE FINDINGS BE APPEALED?
Under military law, the verdict and sentence must be reviewed — and may be reduced — by the commander of the Military District of Washington, currently Maj. Gen. Jeffery S. Buchanan. If Buchanan approves a sentence that includes a bad-conduct discharge, a dishonorable discharge or confinement for a year or more, the case will be automatically reviewed by the Army Court of Criminal Appeals. Further appeals can be made to the military's highest court, the U.S. Court of Appeals for the Armed Forces, and the U.S. Supreme Court.