Help give Herman Wallace his life back before it's too late.
- 07/19/2013 by Jasmine Heiss (Amnesty International)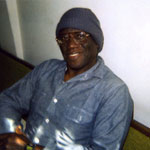 Herman Wallace shouldn't have to die behind bars.
Herman is 71 years old and has advanced liver cancer. He and fellow prisoner Albert Woodfox have been held in solitary confinement longer than anyone else in modern U.S. history. The men have spent the past 41 years of their lives alone in tiny cells for 23 hours a day, deprived of any meaningful human interaction.
No human being deserves to live like this. Herman Wallace should not die alone.
Urge Louisiana Governor Bobby Jindal to release Herman Wallace
HERE
.
Why wouldn't Louisiana officials simply release an elderly prisoner with advanced cancer on humanitarian grounds? Evidence suggests that it is in part because Herman dared to organize and speak out against inhumane treatment and racial segregation inside one of United States' most brutal prisons.
Herman Wallace and Albert Woodfox are the two imprisoned members of the 'Angola 3', three young black men who were thrown in solitary confinement after working against continued segregation, systematic corruption, and grave abuses in the infamous Angola prison. Originally imprisoned for unrelated cases of armed robbery, Herman and Albert were later convicted for the murder of a prison guard in 1972. However, no physical evidence links either man to the murder.
In the decades since Herman and Albert's conviction, numerous legal concerns have risen to the surface from the racially charged underbelly of the U.S. prison system.
These are just a few glaring flaws we documented in our report '100 Years in Solitary: The 'Angola 3' and their Fight for Justice'1:
DNA evidence that might have established the men's innocence was somehow "lost"
Outcomes were based on questionable inmate testimony
Prison officials bribed the main eyewitness
One witness later retracted his testimony
Prison authorities have broken their own policies to justify Herman's continued incarceration in harsh and inhumane conditions. After decades in these conditions, a highly questionable conviction that continues to be challenged by the courts and the now a tragic prognosis of terminal cancer, the next step seems all too clear: Herman Wallace should be released.
Help begin to correct more than 40 years of injustice right now - call on Louisiana's Governor Bobby Jindal to release Herman Wallace immediately.
In Solidarity,
Jasmine Heiss
Amnesty International USA