- 07/11/2013 by Angela Church & Maayan Schneider (WBAI)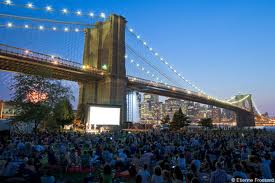 free +cheap nyc
can be heard Thursdays on Wake Up Call during the Arts in the Apple segment 7:30am - 8am and again at 4:55pm.

FILM
There are many free, open-air screenings in the city this summer, and here are a few. The films usually start at sunset (around 8-8:30 pm), but common wisdom is to get there at least 2 hours early, to settle in. Angela's recommendation: "Bring a blanket to sit on and always check the grass for sprinklers. Little buggers are on a timer!"
July 12:
"The Pirates! Band of Misfits" at Hudson Pier 46
July 13:
"Dracula" at 7:30 pm at the Prospect Park Bandshell, Brooklyn, accompanied by the Philip Glass Orchestra and Kishi Bashi
July 15:
"Hush, Hush….Sweet Charlotte" at Bryant Park
July 17:
"Looper" at Hudson Pier 63
July 18:
DJ Hahn Solo at 6, Short film "Catnip" after the DJ set, and finally "Enter the Dragon", at Brooklyn Bridge Park. It's a whole night out!
For more information, visit
http://gonyc.about.com/od/summer/a/river_flicks.htm

ACTIVITIES FOR KIDS
We think our fair city has an unfair reputation for not being super kid-friendly. It seems inherently geared to adults, but there is a thriving lifestyle of truly fun things for the kids to do -we think NYC is a great place to raise a child. Here are some fun things to do:
City Treehouse
in Chelsea is a place where your little ones can take regular classes, or drop by and pay for a one-time use of the play area. According to the website, you can "Frolic in a forest-themed indoor play area. The two-story treehouse delivers loads of fun and adventure. Children will enjoy climbing and sliding, as well as crawling into the secret star cave that is illuminated by hundreds of tiny, twinkling fiber optic lights.
Get your hands wet in the multi-tiered shallow water table called SPLASH! It offers plenty of excitement for children 18 months to 8 years old. It is also a sensory based, child directed activity - a wonderful stimulus for learning!"
ArtFarm
is an adorable Upper East Side urban cottage / animal farm / craft extravaganza for ages 1 and up. Summer Hours on The Farm are, through Aug 16th:
Monday - Thursday 12:00pm - 2:00pm
Drop In - No Reservation Needed; One visit: $12
The "magical, USDA-licensed, indoor petting zoo has a wide variety of animals including bunnies, chinchillas, guinea pigs, lizards, turtles, birds, tropical fish and more." Check it out! Many pricing options available.
And currently at Governor's Island is
Fete Paradiso!
"The world's first festival of vintage French carnival rides and carousels, makes its American debut on Governors Island. The museum-quality collection, including a full carnival of attractions from the late 19th and early 20th century, such as carousels, flying swings and a pipe organ, is available for the public to ride and enjoy. And a bumper car pavilion from 1900 has been transformed into a beer garden.
Food reminiscent of a French carnival will be served." Admission is free; rides cost only $3.00 each, so we guess it can be as cheap as you want it to be. But after all what is the price of fun!?
Free ferries will run to Governors Island from Manhattan and Brooklyn.
MUSIC
Among many other performances -
July 12
: Arin Maya and Djibril Toure will perform at Brooklyn's Fowler Park at 6 pm, as part of the BAM-sponsored FAB Friday series.
For more information, please visit
http://www.bam.org/neighborhood/2013/fab-fridays-in-july
Have suggestions for the coming weeks?
Email us at
freeandcheap@wbai.org.