Folk Fundraiser Concert for WBAI with legendary folksinger Peter Yarrow and Bethany + Rufus
---
- NYC 05/06/2013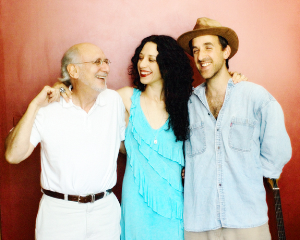 Folk Fundraiser Concert for WBAI with legendary folksinger Peter Yarrow and Bethany & Rufus on
WEDNESDAY, MAY 22
, Doors open 6:30pm, Concert at 7pm.
Peter Yarrow
is best known as part of the 60's folk trio Peter, Paul and Mary. But, whether part of the trio or solo, his decades of performances reflect music of conscience. His talents are directed at using music to convey a message of humanity and caring.
Bethany is the daughter of Peter Yarrow
, so we expect that she'd have a sense of the folk tradition, but what she does with and to that tradition is nothing short of brilliant. Her voice, rich, dark, and true cuts right through to express all that the music needs... She has the rhythmic sensibility and depth of feeling to call forth the jazz and blues tradition and the breadth of textures to take a listener around the world. Then there's
Rufus Cappadocia's
five-string cello - played pizzicato, jazz style and bowed, incorporating the bass range and world music rhythms. It's a perfect chemistry. The duo sees themselves as roots...but the music touches jazz, gospel and something beyond. These are two artists who emerge with shining songs for a new time.
At The Community Church, 40 E. 35th St., NYC.
Tickets-$25 donation at the door and online at
www.give2wbai.org
. OR there are packages available that include preferred seating, Cd's, books, and have your picture taken backstage with the musicians! Look under the "Tickets/Misc" menu on
www.give2wbai.org
.
Wine and fabulous desserts will be available.