Join Us For Earth Day Lobby Day 2013!
---
- New York State Capitol 04/11/2013 by James Krivo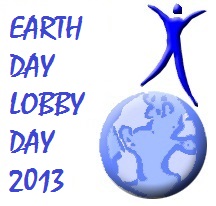 Tuesday, April 23rd, 20139:30 A.M. – 3:00 P.M. New York State Capitol Albany, NY MAP
Please join us for the 23rd annual Earth Day Lobby Day in Albany, New York. Hear from state government and environmental leaders, learn about environmental bills that are pending in Albany, and lobby your state lawmakers to enact a moratorium on fracking and take action on other environmental issues that are important to you.
This year's Earth Day Lobby Day will
center on critically important environmental issues
such as protecting New Yorkers from the dangers of fracking, expanding solar energy, curbing greenhouse gas emissions, and keeping toxic chemicals out of children's products. This year's Earth Day Lobby Day will focus on four Super Bills, including:1) Fracking Moratorium and Health Impacts Assessment (A.5425A / S.4236A)2) New York Solar Bill (A.5060 / S.2522)3) Child Safe Products (A.6328)4) Global Warming Pollution & Control Act (A.6372 / S.735)Join hundreds of environmentalists from across the state in advocating for measures to protect our air, water, land and health. No lobbying experience needed! This event is free and open to the public, but you must register to attend.
Sign up now for Earth Day Lobby Day by clicking here!
Earth Day Lobby Day 2013 is being sponsored by Audubon New York, Citizens Campaign for the Environment, Clean & Healthy New York, Environmental Advocates of New York, New York Interfaith Power and Light, NYPIRG, Riverkeeper, Sierra Club, and other organizations.