- BAM Harvey Theater 04/14/2013 by Angela Church (BAM)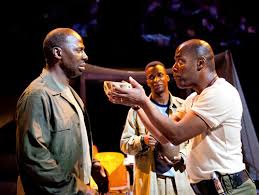 Recently, I had the wonderful opportunity to sit down with actors Jeffrey Kissoon and Samantha Walker to talk about their work as Caesar and Calpurnia in the Royal Shakespeare Company's production of Julius Caesar currently playing at BAM.
Kissoon, a seasoned Shakespearean actor, had an air of calm and affability that would belie the fact that they had just arrived from Moscow a day earlier and had been in rehearsals since morning.
Walker sat down with elegant energy and began explaining that she is taking over the role of Calpurnia for the US tour and that this is her first time to the United States.
I have to agree, the RSC, BAM and first visit to New York all in one package is an exciting and potentially intimidating load to carry.
She is lovely and I hope we get the chance to see her again on our stages.
Kissoon is a veteran of BAM - and happily back on the stage since his debut here with Peter Brook's Mahabharata in 1987. Again, I cannot convey how friendly and warm these two were... it was a lovely half hour for me.
While we were talking, there was a chorus of games and laughter emanating from the cafe. I was told it was the sound of the "Friends,Romans and Countrymen" chosen for their highly cultural and non-acting backgrounds.
Gregory Doran, the director, creates a culture of modern magic and intrigue with this timely story complete with live music and dance. See attached video below of the Soothsayer, a wonderful 'take' on this very important player. The RSC website explains an amazing, and for those of us who really love Shakespeare, a magical story about where this particular production found its roots. It began when Nelson Mandela told Doran about the "Robben's Island Bible"...
Sonny Venkatrathnam, a political prisoner, could only own one book during his imprisonment. Being a former English student he chose The Complete Works of William Shakespeare. Unfortunately as the environment in the prison worsened, the book was taken away from Venkatrathnam by prison guards and locked in a storeroom. In a sheer stroke of luck, one Sunday during the weekly prayer service, one of the guards ordered Sonny to go and get his Bible. Quick thinking Venkatrathnam answered that he had left it in the storeroom. He was allowed in to get this misplaced Bible and instead grabbed his copy of The Complete Works. He explained to the warden that it was his 'Bible' by William Shakespeare.' The God fearing wardens who could not understand the text written in Shakespearean English let him keep the book.
The 'Bible' was passed between inmates during the 1970's, all of whom treasured the book and each signed their favorite passages with initials and a date. The book was signed a total of 32 times by prisoners, who highlighted passages and quotes that they found meaningful and profound. They now offer us an insight into how the words of Shakespeare resonated with these men who were imprisoned for campaigning for an equal South Africa. (www.rsc.org.uk)
The play is set in a non-specific area of Africa, and as noted by the actors, the dialect they chose was Kenyan.
I immediately inquired how that helped or hindered the musicality of the verse, and both agreed it was a challenge but incredibly freeing ultimately. (Walker is a Yorkshire native and Kissoon is from Trinidad.)
Julius Caesar is a play about dictatorial power, and as Kissoon remarks, a potentially'good man with power who was killed out of fear of who he MIGHT become."
In this day and age of global awareness it is a shockingly accurate representation of the immediacy of Shakespeare's work. The setting serves to re-tell the story... a historical and mostly cerebral tale of power and fear as it plays out even today.
Kissoon further stated that this story most likely would have had a different ending had they "listened to the women." William loved his ladies, so with a few exceptions overall, I would say this is a good rule of thumb for the plays.
If you are interested, the passage Mandela chose from the canon was not surprisingly from Julius Caesar:
Cowards die many times before their deaths;
The valiant never taste of death but once.
Of all the wonders that I yet have heard.
It seems to me most strange that men should fear;
Seeing that death, a necessary end,
Will come when it will come.
I.ii
You can see Julius Caesar at Brooklyn Academy of Music's Harvey April19-28. See http://www.bam.org/theater/2013/julius-caesarfor details.