Confessions of a Microfinance Heretic
---
- New York 07/10/2012 by Andrea Sears (WBAI)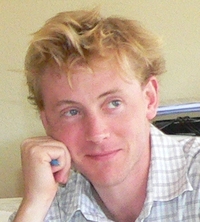 Microfinance, giving small loans to the poor so they can invest in the tools they need to improve their lives, has been touted as the way to end poverty forever. In 2006 Bangladeshi banker Mohammed Yunus and the Grameen Bank received the Nobel Peace Prize "for their efforts through microcredit to create economic and social development from below". It's a cause promoted by celebrities that, in the past forty years, has grown into a multi-billion dollar industry. But like any investment business microfinance is susceptible to fraud and abuse.
Hugh Sinclair has worked in microfinance for the past decade on five continents. And that experience led him to be a whistle blower. In his book "Confessions of a Microfinance Heretic: How Microlending Lost Its Way and Betrayed the Poor", he describes some of the microfinance institutions he worked for as frauds and Ponzi schemes, the new loan sharks siphoning wealth from the poor to rich investors.
In part one of an extended interview with WBAI's Andrea Sears Sinclair says microfinance is really an extremely good idea and has proved to be effective in isolated cases.