REEL WORLD
---
Wednesday 2:00pm - 3:00pm
Hosted by: Mike Sargent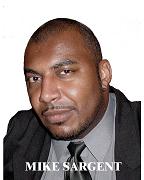 Mike is currently chief Film critic for WBAI RADIO's daytime film review program, REELWORLD, and host of WBAI's popular late night radio show, NITESHIFT, which features live guests including everyone from Richard Donner, Harlan Ellison and Richard Dreyfuss to Levar Burton, Esai Morales and Rah Digga. Sargent is a nationally quoted film critic whose quotes have been used in national television, print and radio advertising campaigns. He is also a founding member of Black Film Critics Circle (BFCC). BFCC holds the distinction of being the only organization developed by and catering to the needs of African American media professionals who critique movies and cover the film industry.
Sargent is also an established filmaker. His writing and directing debut feature film, Personals (aka Hook'd Up) starred Malik Yoba (of NY Undercover & Why Did I Get Married) and Stacey Dash (of the film & TV show Clueless) & Jim Gaffigan (13 Going On 30, 17 Again) . Personals was the opening night film at Los Angeles' Pan African Film Festival in 1999. The L.A. Times called the film "both entertaining and provocative." The film was distributed theatrically in 2000-2001.
Mike has returned to filmmaking and is currently shooting BAD BOYS: A documentary. This is an in-depth, investigative film that examines why women and society in general seem to have a fixation with "bad boys." For more information on this project and to read stories women have shared about their own experiences, go to www.badboystories.com.