REEL WORLD
---
Wednesday 2:00pm - 3:00pm
Hosted by: Mike Sargeant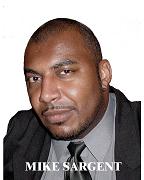 Currently Mike is the producer/co-host of WBAI's popular long running late night magazine/talk show
Niteshift
. For the past 3 years, he has also been the chief film critic for WBAI, and hosts
Reelworld
, an all film related program.
Mike has appeared on numerous television and radio programs for his various creative endeavors as guest, guest commentator and panelist. During his radio tenure spanning over 19 years, he has hosted a variety of arts related programs for the Pacifica Radio Network and other New York stations.
As a nationally quoted film and entertainment critic and member of the Broadcast Film Critics Association (BFCA), Mike is also a co-founder of the African American Film Critics Association (AAFCA). Mike Sargent is also the co-founder of the Visionary Network, an organization that showcases screenplays written by people of color. Through this exposure several of their featured screenplays have been optioned as films.