RADIO LIBRE!
---
Alternating Sundays, 2:00-4:00pm (alternates weeks with Con Sabor Latino)
Hosted by: Ibrahim Gonzalez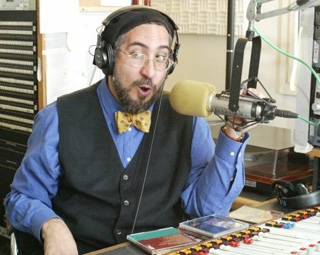 Radio Libre! is Ibrahim Gonzalez' foray into all things Latino and hemispheric making all of the transatlantic musical and cultural connections. The program seeks to explore the many genres of Latino Music -- old and new, traditional and experimental, urban and folkloric.
Ibrahim Gonzalez' eclectic taste in music stems from the fact that he himself is a seasoned musician. As a percussionist, pianist, composer and music producer, his travels have put him in direct contact with many of the elder statesmen in music and he collaborates within many settings with the new generation of musicians on the NYC scene who are realizing their own artistic visions.
Radio Libre! mixes it up with a sense of spontaneity and verve. Live music performances, interviews with those in the know, historical and social commentary, literary explorations and poetry take stage. Ibrahim stretches boundaries and invites all who listen into the art of free form radio with a Mambo Dervish twist. His troubador ramblings are very much in evidence as the journey unfolds each time he opens up the mic to the Pacifica airwaves and dances with the audience along the sonic quest.
When away from the mic, the Urban Jibaro is hatching many other creative plots. His involvements include: Music and Video Production, The Nuyorican Jazz Quintet, Bronx Music Studio Initiative, Percussion and Keyboard Seminars, Cartography, Fine Art Photography, Voiceovers, and an ongoing love affair with Sufism.