THUMP AND GROWL
---
Tuesday 10am - Noon
Hosted by: Kimberly Massengill

Web Site:
http://www.thumpandgrowl.com
Facebook:
http://www.facebook.com/groups/ThumpAndGrowl/
Twitter:
https://twitter.com/thumpandgrowl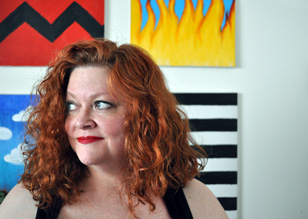 '60s Soul, '70s Funk, slowcore, Trip-Hop, Jangle Pop, Devil Twang, quirk, da riddim, Gospel (fat and black only, please), Indie Rock for Grown-Ups™, draggy, buzzy Jazz no one would ever mistake for smooth, down tempo electronica, as long as I don't have to say the word 'electronica,' most things rockin' the 'Afro' prefix, breathy vocals by folks who can't quite sing, smacky, lumbering psychedelithump, less than flattering songs about Jesus, old style crooners sporting impressive amounts of hair product, the slow, grindy grooves a junkie stripper would probably dig, Blues by musicians wearing hats of some sort, songs sung in languages I don't understand, good covers of bad songs and bad covers of good songs.
Kimberly began in commercial radio, but likes freeform much better, and the money's almost as good. When not hosting Thump and Growl, she's an activist in the fields of fat politics and body autonomy, and she trains volunteers for Musicians On Call, a nonprofit which brings music performances to the bedsides of hospital patients. She's reverent about irreverence. Likes things filled with stuff. And people who paint their flaws a bright color.