SHOCKING BLUE
---
Thursdays, Fridays 10am to Noon
Hosted by: Delphine Blue
Web Site:
http://www.eastvillageradio.com
Facebook Page: http://www.facebook.com/delphine.blue
Linked In Profile: http://www.linkedin.com/pub/delphine-blue/6/896/381
Twitter Name: @delphineblue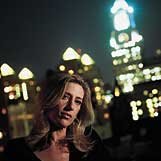 Shocking Blue first aired on WBAI in October of 1986 when the landscape of commercial radio in the New York Metropolitan area was barren in terms of musical innovation. Delphine Blue created Shocking Blue to shock music lovers as they discovered an oasis on the dial.
Thanks to the internet, in 2008 there are many places for music lovers to find interesting sounds. Shocking Blue maintains its place amongst them. The more the better.
Expect to hear music from many lands and many genres across many decades
playlists for the show: myspace.com/podgoddess