BEYOND THE PALE
---
Sundays, 12:00pm-1:00pm
Hosted by: Esther Kapalan and Marilyn Kleinberg Neimark

Web Site:
http://www.beyondthepale.org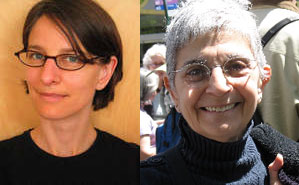 BEYOND THE PALE explores local, national and international politics, policy, and social movements from a Jewish perspective. We also bring listeners the voices and sounds of contemporary Jewish culture, from film critics to filmmakers, novelists, poets and musicians.

BEYOND THE PALE is the only Jewish program on radio or television devoted to bringing a progressive lens to political and cultural debates. Archived shows and Podcasts of BEYOND THE PALE, as well as an events calendar and other progressive Jewish resources, are available at beyondthepale.org.
BEYOND THE PALE is produced with the support of Jews for Racial and Economic Justice, a New York City-based organization that mobilizes the Jewish community to support key social justice struggles in the city, such as opposing racial violence and economic exploitation and defending the social safety net.
Marilyn Kleinberg Neimark is a founder and board member of Jewish for Racial and Economic Justice. She is the author of The Hidden Dimensions of Annual Reports: Sixty Years of Social Conflict at General Motors (Markus Wiener, Publishers, 1992) and of numerous articles on higher education, business ethics and critical accounting. She is on the faculty of Baruch College - The City University of New York. She was the co-host of Econonews on WBAI during the early 1990s.
Esther Kaplan is investigative editor at the Nation Institute and produces The Communique, a weekly program on WNYE radio that covers labor issues. She is the author of With God on Their Side: George W. Bush and the Christian Right (New Press, 2005) and has written for The Nation, The Village Voice, American Prospect, In These Times, and other publications. She is a former director of Jews for Racial and Economic Justice and has been active in the AIDS, reproductive rights, antiwar, labor and Israel/Palestine peace movements.
Contributors: K. E. Feldman, Melanie Kaye/Kantrowitz, Josh Nathan-Kazis, Nan Rubin, Alisa Solomon, Abe Velez.