FEATURE STORY NEWS RADIO
---
Monday to Friday, 6:00pm - 6:30pm, Monday 11:30-Midnight, Thursday 11:30-Midnight
Hosted by: Various Producers

Web Site:
http://www.featurestorynews.com/index.html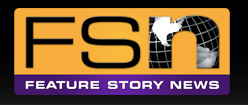 Founded in 1992, FSN is the world's leading independent broadcast news agency.
With staff working from a network of full-time global news bureaus, the company provides award-winning, cost-effective news coverage for TV, radio and online broadcasters around the world.
FSN's resources give it an unparalleled ability to respond immediately to breaking news events on behalf of each of our diverse clients. In addition to ongoing coverage of breaking and developingnews stories, we also produce a constant stream of human interest features and long-form documentaries.

Our unique service offers broadcasters the opportunity to commission customized coverage of events that directly affect their target audience. FSN's reporters act as the international "eyes and ears" for our clients, providing distinctive coverage that reflects each network's specific tone, style and news agenda.

Every day, FSN's TV reports reach millions of viewers via national networks that include "The News Hour with Jim Lehrer", Fox News Channel, South African Broadcasting Corporation, Mediacorp News of Singapore, Voice of America, and Asian News International.

FSN Radio's World News Feed brings international news events to the listeners of SABC, Radio New Zealand, FM4 in Austria, Vatican Radio, Australian Independent Radio News and DW Radio.

And FSN's own anchored news updates are heard around the world on an array of satellite, FM, Community and web-based stations, and offered to individual listeners as a regularly-updated podcast.

Networks also turn to FSN's bureaus to accommodate their own correspondents. Our teams offer full bureau services and field production assistance to visiting reporters on a temporary or full-time basis.

FSN produces corporate videos for some of the world's leading non-governmental organizations. And FSN's exclusive video archive is available for use by the smallest or largest film-and-video project.

FSN has received dozens of major journalism awards for its coverage including National Headliner and National Press Club honors in 2006, and awards from the Society for Professional Journalists, the United Nations Correspondents' Association and the New York Festivals in 2005.