WOMEN IN THE MAKING
---
2nd Wednesday of the month 2-3 pm
Hosted by: Desi K. Robinson

Web Site:
http://www.WomenInTheMaking.blogspot.com
Facebook:
http://www.facebook.com/DesiKWIM
LinkedIn:
http://www.LinkedIn.com/in/DesiKRobinson
Twitter:
www.Twitter.com/DesiKWIMRadio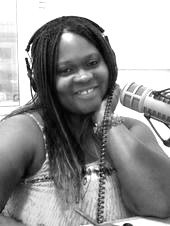 Women in the Making: Tomorrow's History Today (WIM) highlights the views, perspective, questions, goals and accomplishments of today's girl. Created and hosted by Desi K. Robinson, the show features snapshots of young women on their roller coaster journey to womanhood and the influences - environmental, emotional, social - they will inevitably incur.
As the latest form of "edutainment," WIM addresses many of the traditional issues explored in women's talk shows and allows for age-appropriate discussions. WIM offers the opportunity to be proactive to educate and encourage girls and young women to use their resources to make healthy choices in their young lives. Topics of discussion range from influences of the media, school, career goals and health to politics, money, cultural tolerance, and the general stresses of growing up. The hour-long show features a young guest(s) "a woman in the making" - who has exhibited leadership. She is paired with an adult "shero" mentor who has expertise in the show's topic. Sheroes featured are anyone from community leaders to celebrities to politicians.