- 10/10/2012 by Andrea Sears (WBAI)
Click the play arrow to listen to audio (Flash required).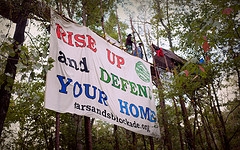 Two New York journalists were arrested as they tried to leave the site of the Tar Sands Blockade, an on-going encampment in Texas where activists have occupied tree tops in the path of the southern branch of the Keystone XL pipeline to block construction. Ron Seifert is a spokesperson for the Blockade. Speaking with WBAI's Andrea Sears Seifert says Elizabeth Arce and Lorenzo Serna were arrested last night after spending a week documenting the protest from the platforms and catwalks up in the trees.