- 10/03/2012 by Barbara Arnwine, Greg Palast, (WBAI)
Click the play arrow to listen to audio (Flash required).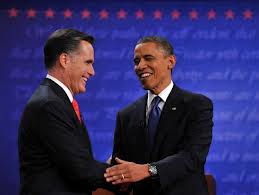 OBAMA TO ROMNEY: 'YASSUH!'
The only thing moving "leftward" in this week's corporate-designed and ill-moderated "Presidential Debate" was Mitt Romney's shape-shifting from "Tea Party" to "Centrist."
Barack Obama was, with his policy of international war-making and domestic surrender, relative to 2008's fond reminiscences of "hope," "change," and progressive politics... AWOL.
POST-DEBATE ANALYSIS:
BARBARA ARNWINE, executive director of the Lawyers' Committee for Civil Rights Under Law [ lawyerscommittee.org , 866-OUR-VOTE ] provides a state-by-state analysis of voter disenfranchisement; and
GREG PALAST, author of "Billionaires and Ballot Bandits" [ gregpalast.com , ballotbandits.org ], details nine ways Karl Rove and the Koch brothers are "stealing" the 2012 election; and
BARBARA HARRIS - "It Don't Worry Me" ['Nashville' soundtrack