- New York City 02/05/2013 by Andrea Sears (WBAI)
Click the play arrow to listen to audio (Flash required).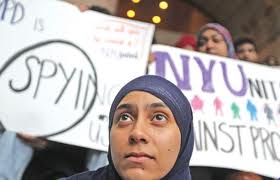 Civil rights lawyers filed a motion asking a federal court to end the NYPD's illegal surveillance of American Muslims and establish an independent monitor to review the Department's counterterrorism efforts. WBAI's Andrea Sears speaks with Faiza Patel, Co-Director of the Liberty and National Security Program at the Brennan Center for Justice.