- NYC 09/11/2012 by Linda Zises (WBAI)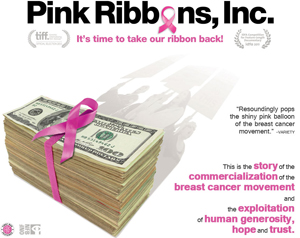 Revelatory, Provocative, Powerful, Enlightening:
Canadian director Lea Pool, best known for
Set Me Free
, uses interviews, animated sequences, vintage clips from news programs and public-service announcements, and coverage of pink-ribbon events, walks "for the cure" in D.C. and San Francisco, a pink-lighted Niagara Falls and Empire State Building, as well as a jump by "Aerial Pink Force" skydivers to get her message across.
Based on the Samantha King book,
Pink Ribbons, Inc.: Breast Cancer and the Politics of Philanthropy
, the film features King as one of the movie's main voices along with Nickled and Dimed author Barbara Ehrenreich, a breast cancer survivor; former surgeon Dr. Susan Love, a skeptic of "slash, burn and poison" treatments; and former Breast Cancer Action leader Barbara Brenner along with many "survivors"/victims of the disease.
Sometimes an expose is so obvious you wonder why it wasn't common knowledge. That's how I felt as I watched Pink Ribbons, Inc, the carefully constructed, professionally produced examination of the Pink Ribbon campaign that has gone viral.
You want to feel good, you want to party and support a cause that everyone embraces, join the Pink Ribbon parades, and support more money for breast cancer, a cause every woman embraces because we know that breast cancer is a women's problem, a disease that strikes women with an ever increasing incidence.
We know we are safe at Pink Ribbon events where we will not be hounded by police because the police have women in their ranks, and have mothers, wives and daughters. We rush to avail ourselves of the Revlon and Avon products, the Fuzz drinks, and generous "giveaways" sponsored by Este Lauder and the other corporations that seem determined to show themselves in a good, humanitarian light. Even my yoga school embraces the Pink Ribbon: it donates money, collected from loaned yoga mats and proudly announces how much money it donated each year.
Each year, for as long as I have been alive, money has been sought and donated to "The Cause", which totaled billions of dollars. Are you impressed?
Pink Ribbons Inc. shows how women are the victims of the disease and of the proclaimed efforts for cure. In all these many years, the treatment for breast cancer has not changed, and the prognosis for recovery has not changed. Meanwhile, the chaotic fundamentals of research have grown more dispersed and potentially less effective, and the result is that there have been no new ideas for what causes breast cancer, and no cure. It seems as if cancer is "Something inside so strong", as the song by Labi Siffre says.
Pink Ribbons Inc. shows all this and more. The corporation of the cancer movement is riveting to watch, the emotional impact is painful to see and that's what makes this film a must see for all.
We need to put the cancer industry back into the business of fighting the disease, not making money for those who profess to care.
The DVD will be released on 9/25/2012.