- New York 09/18/2012 by Jose Santiago (WBAI)
Click the play arrow to listen to audio (Flash required).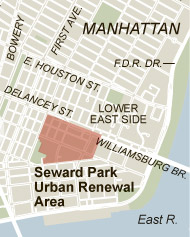 Later this week, the New York City Council will hold a hearing on the Bloomberg Administration's proposal to develop several acres of publicly owned lots in the Chinatown section of Lower Manhattan - lots that have sat vacant for some forty years. But local groups are opposing the plan saying all apartments should be affordable. WBAI's Jose Santiago spoke with JoAnn Lum of The Coalition to Protect Chinatown and the Lower East Side.